MASTERS IN ENVIRONMENTAL SCIENCES
REG. REQUIREMENTS AND GRADUATE PROFILE
REGISTRATION REQUIREMENTS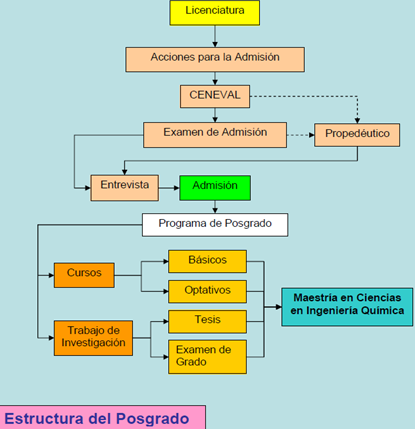 Majored in any of the following: Chemical Engineering, Chemistry, Biology, Environmental, Bio-Chemistry, chemist pharmacobiologist, or any other related field. They could join the program after being assessed and approved by the Admission Committee.
Pass the knowledge testing in the following areas: Mathematics, Chemistry, Biology  or  propaedeutic course
Submit a personal motivation letter to explain reasons to take the master's program.
Hold an interview with the Admission Committee.
In order to join the Master's Program in Environmental Sciences it is required to provide a copy of the following documents.:
Birth Certificate.
B. in S. full transcript (Minimum General Average of 8.0)
Undergraduate degree or minutes of the professional examination.
Professional ID card.
Note: If taking this master's degree is a requirement for getting the Bachelor's degree, a notification in writing shall be given to the posgraduate committe who in turn will consider this, such committee will be integrated by the doctors resposable fo the program.
Admission form and motivation letter. Request template to the Program coordinator.
Currículum Vitae updated.
English language test certificate (Domestic designed test by the Admission Committee.)
Admission Test results by (CENEVAL)
Enter and approve all propaedeutic courses as required by the Coordination of Research and Postgraduate Studies, along with the Postgraduate committee.
GRADUATE PROFILE
Alumni from this Master's Program in Environmental Sciences will have gained knowledge, methodologies, skills and attitudes required to develop basic research / or applied in Sciences and Environmental Engineering according to the chosen research field. Alumni will be able to work for industry, universities, Research Centers, prívate or public corporations.  Also, the student will be ready to enter into a Ph. D. program in a related field all over Mexico or abroad.